We have between 50 to 100 Trillion nano-plants producing bioelectricity 24 hours a day, yes our cells are in action, sleeping or awake. Cellular structures need energy to perform their functions. This energy is converted from the food we eat. And do your cells have neighbors? Yes Recent studies have counted one bacterium for every 10 cells, that is, 10 trillion bacteria living in your body. Thus the possibility of energy imbalance also happens 24 hours a day.
Alternative therapies value, respect, recognize inner subjectivity, emotions and thoughts that can affect the body's health. In fact, they are closely linked.
The World Health Organization (WHO) and the Ministry of Health (MS) recommend them and the Unified Health System (SUS) defines it as an integrative and complementary practice (PICs), which do not replace traditional treatment, but are indicated as supplementary , work as aggregators.
Music therapy aims to develop potentials and restore the individual's functions so that he / she can achieve better intra and interpersonal integration and, consequently, a better quality of life.

According to the World Music Therapy Federation
According to a review published by the Cochrane Library, a non-profit research partner of the World Health Organization (WHO), the simple act of listening to music can improve heart and respiratory rates, as well as blood pressure in patients with Coronary Artery Disease ( DAC).
Today, modern physics proposes a new biological approach to health, disease and harmonization through vibrational quantum therapy, enhancing the restoration of body energy balance, thus creating the possibility of a better quality of life.
According to Dr. Royal R. Rife, each disease has a frequency.
He found that certain frequencies could prevent the disease from developing and that others would destroy the disease.
Frequency is the measurable flow rate of electricity that is constant between any two points. Everything has a frequency. Dr. Robert O. Becker in his book The Body Electric establishes that the human body has an electrical frequency and that much about a person's health can be determined by its frequency.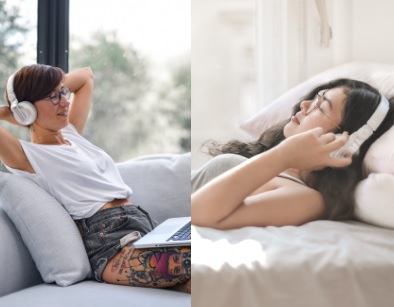 So, where can sound therapy be useful?
The principle of resonance in biological terms is the possibility of causing biophysiological and energetic effects through very weak and subtle signals that resonate with the biological organism, ordering systems.
What are the likely energetic rebalances observed with the use of this therapeutic modality?
Development of self-esteem and self-confidence;
Reduction of stress and anxiety;
Relief from physical and emotional pain;
Improvement in sleep quality, with the stimulation of the hormone melatonin;
Muscle relaxation;
Increased disposition and energy;
Aid in thyroid balance;
Aid in the balance of the adrenal glands, responsible for regulating the body's sodium, potassium, water and carbohydrates, in addition to regulating the human body's reactions to stress;
Stimulating the production of dopamine, which is a neurotransmitter that acts in the brain, producing a sensation of pleasure and motivation;
Balance of insulin production, which reduces blood glucose levels, aiding in the treatment of diabetes and also preventing disease;
Balance of serotonin production, which plays an important role in the nervous system, with several functions, such as the release of some hormones, the regulation of sleep, body temperature, appetite, mood, motor activity and cognitive functions;
Aid in increasing the production of lymphocyte cells, which are the body's defense cells;
Stimulating the renewal of cartilage cells, helping to prevent wear.